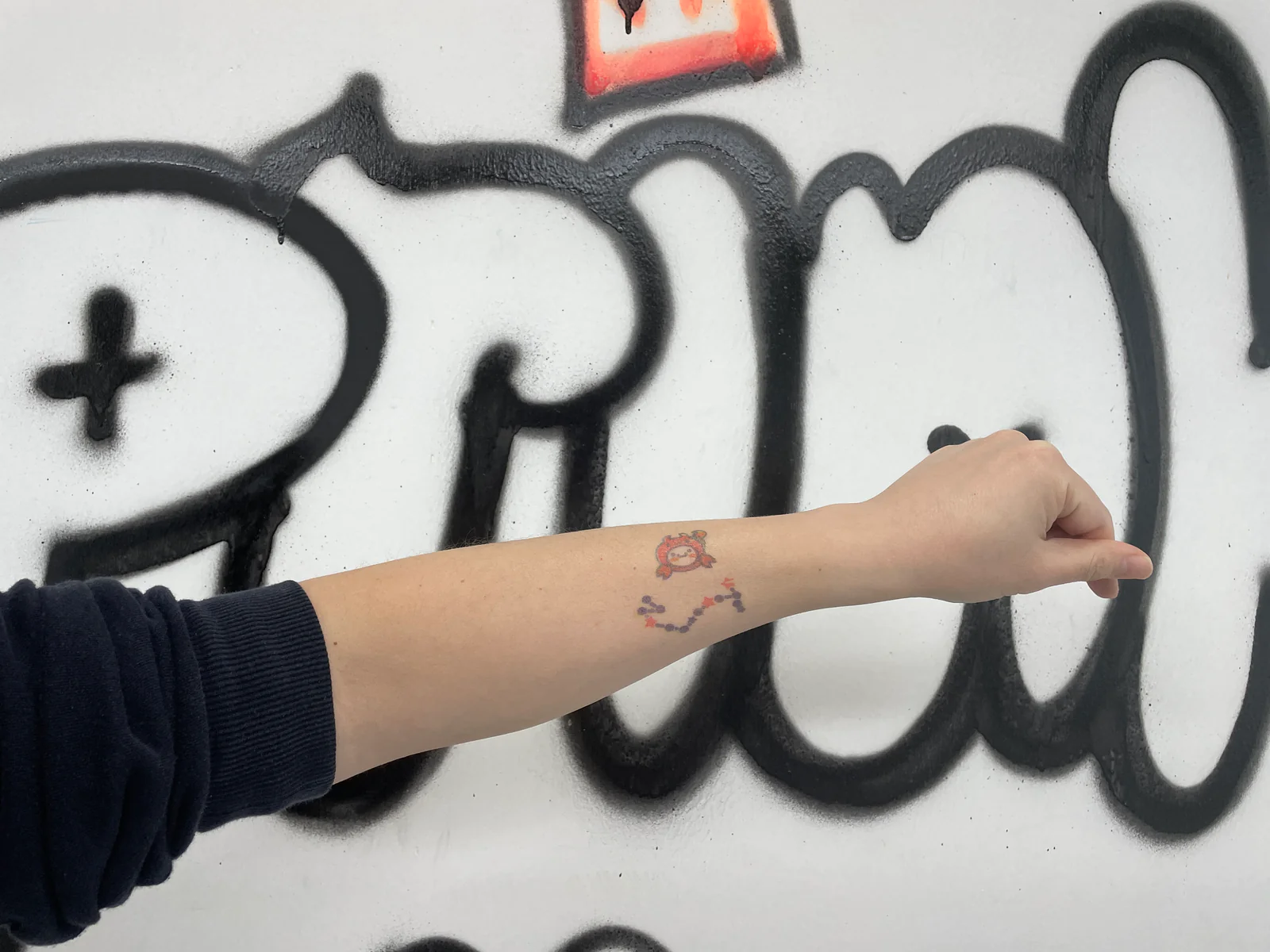 Star tattoos have always been a classic go-to design for those looking for a meaningful tattoo or someone who just wants a neat, aesthetically pleasing star design. Check out our list of star tattoo ideas- every tattoo showcased in this article can be found in Prinker's growing tattoo library!

Star tattoos have been trending in recent decades for their simplicity, you could find them in practically any art style. It's a very gender-neutral tattoo design, even suitable as a meaningful couple tattoo if you are looking for a matching couple tattoo idea.
A unique star tattoo with a twist. Design by transitivebullshit

Women often seek out small star tattoos as a feminine addition to their style- treat it as a small jewellery piece at the back of your neck, on the wrist or back of the ear! Here are some star tattoo designs for women:
Design by ninasi

Shooting stars are very popular due to their aesthetic appeal as well as meaning behind them. Ever had someone meaningful tell you to 'reach for the stars' or that you're a star? Get a star tattoo in honor of them!
Design by Prinker Korea

This colorful planet and stars design would be adorable at the collarbone or along the forearm, suitable for a fun party with friends or family! Star tattoo designs represent a sense of adventure, fun and courage. Dazzle both kids and adults with some color...
Design by Mini Lau

Are you an astrology enthusiast? You might like constellation tattoos or other symbols to show off your horoscope! Showcase your constellation sign proudly with our designs here:
A simple Leo constellation design by Prinker Korea
Scorpio constellation with cartoon symbol by Prinker Korea
On the other hand, men star tattoos are also available if you prefer a design that is more neutral or on the masculine side. Opt for something dark and monochromatic.
Design by M_Ink

Temporary star tattoos can be fun for a one-day party with friends- show it off with your new party outfit this season! A small fake star tattoo adds subtle glamour, or go for a huge star-shaped tattoo for a good conversation starter!

A cluster or row of star tattoos looks good on anyone along the collarbone, back of the neck, wrist or forearm. Celebrities like Rihanna have a whole galaxy of star tattoos, she shows hers off whenever she wears a backless dress.
Design by Prinker Korea:

Browse for more in our Prinker Content Platform here

If you already own a Prinker device, get the Prinker App to start prinking these designs on yourself or your friends:

Download Prinker app for iOS

Download Prinker app for Android

Be the star of the show with our star temporary tattoos! Whether you're showing off your favourite constellation, glamming up for a festival or party, or just want to make a wish on a shooting star, our temporary star tattoos are the way to go.With thousands of unique designs to choose from, it's so easy to unleash your imagination. Browse our huge library full of pre-made artworks, pair your new design with one of our moon temporary tattoos to create your own galaxy, or add a unicorn temporary tattoo for that whimsical vibe.
Safe and kid-friendly temporary tattoos
Our temporary tattoo devices are safe and easy to use for all ages, allowing you to create your very own star temporary tattoo. Enjoy waterproof tattoos that won't smudge which lasts up to 3 days, even when you take a dip in the pool or head to the beach. Once you're ready to remove your temporary star tattoo and try something new, just use soap and water - it really is that simple!
Our cosmetic-grade ink is non-toxic, cruelty-free and registered with FDA VCRP and EU CPNP. Even kids can get in on the Prinker fun with a new temporary star tattoo!

Get a realistic-looking fake star tattoo without the commitment. Prinker gives you the ability to create your very own star temporary tattoo to suit your outfit, event or style, so you'll always have the perfect design, every time.
Be the star of the party this season with Prinker!