The Celtic people are one of the most ancient civilisations of the world with their modern-day descendants currently make up modern Ireland and Scotland. The origin of Celtic tattoos can be traced back to ancient Celtic warriors who wore blue tattoo sleeves to appear fearsome and intimidating in the face of enemies.

With such a distinctly intricate design, it is no surprise that Celtic tattoos have always been among the most popular designs in the tattoo industry. People choose them either because they want to honor the Celtic ancestry, or simply because they like the aesthetic and meaning behind them.

One of the most common Celtic tattoos is the Celtic cross, an iconic symbol of Irish heritage often depicted in art and religion. It consists of a circle around the cross, and usually contains knots within. This is a common tattoo design for men, often printed monochromatically. Here, the circle used to represent the sun god but Catholicism adopted it to represent god's love.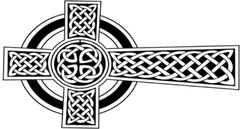 Design by M_Ink

Next, the triple knot tattoo - also known as three-cornered tattoo- is also a popular Celtic knot tattoo design. According to the pagan beliefs, it stood for the three stages of the woman's life - maiden, mother and crone; while under Catholicism, it came to represent the father, son and holy spirit.
Design by Pixabay

Another interesting design is the Celtic spiral knot tattoo! It consists of three spirals connected to each other in the middle, symbolizing the 3 phases of life that connect: life, death and rebirth. The triple spiral, also called the triskele, also represents the past/present/future or beginning/middle/end. Small Celtic tattoos like these are particularly suitable for women who want a dainty look or anyone who prefers a more minimalistic style!
Design by Pixabay

On the other hand, Celtic tattoo designs are for both men and women, and can hold great meaning behind them. The Prinker Content Platform contains many Celtic tattoo ideas, ranging from a small wrist tattoo to a whole sleeve if that's what you prefer!

Fancy a simple Celtic tattoo? We've got you.
Design by Pixabay
Irish Celtic knot tattoos fit well as a sleeve or half-sleeve tattoo and they can also be used to represent the never-ending love between couples or family. This design makes for a great Celtic knot armband tattoo if you're going for a more masculine look.
Design by Pixabay

Larger Celtic knot tattoos like this one exude courage and vitality, fit for the forearm or chest.
Design by M_Ink
Prinker makes it easy for you to get your very own temporary tattoo in seconds. Once you've selected your design and sent it to your Prinker's Temporary Tattoo Printing Device, simply roll the device on your body to bring the chosen design to life! There's no need to worry about getting into the water with it - your temporary Celtic tattoo with Prinker is water-resistant and can last up to 3 days, so show it off at the pool or beach! Once you're ready to change your design, just use soap and water to remove it.

Browse for more in Prinker Content Platform here

If you already own a Prinker device, get the Prinker App to start prinking these designs on yourself or your friends:

Download Prinker app for iOS

Download Prinker app for Android

With Prinker, the sky's the limit. Commitment-free and painless, change your look every day according to the way you want it. Hurry and get Prink'd today!