Express yourself in unique ways. Prinker is all about giving people the option to show off who they are in fun ways. That's why we've designed a range of devices that allow you to apply temporary face tattoos while at home, out and about or on the go. Our products are fully transportable and can be used on any part of your face. Expect to create colorful designs and turn plenty of heads as a result. Applying fake face tattoos has never been easier and it's all thanks to the awesome range brought to you by Prinker.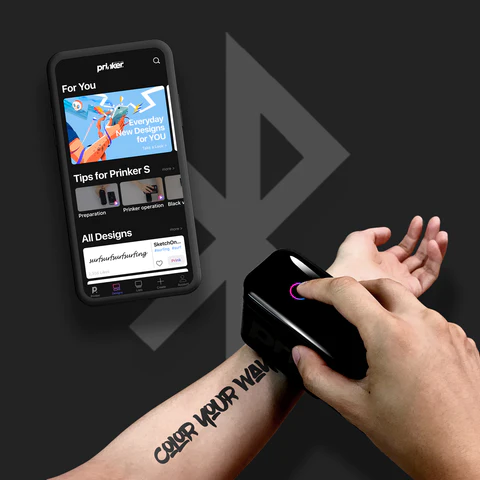 HOW TEMP FACE TATTOOS WORK
Get up and running in no time at all. Prinker products don't require a lengthy setup process because we want you to start having fun right away. Once you have purchased your preferred model, simply connect your smartphone to our app and then start searching thousands of different creative designs to use as a temporary face tattoo. From there, prime the area of your face you wish to tattoo and get to work tattooing. You can even bring custom fake face tattoo ideas to life by drawing them yourself. The opportunities are endless with the Prinker range and we promise that you'll love everything about our amazing devices and temp face tattoos.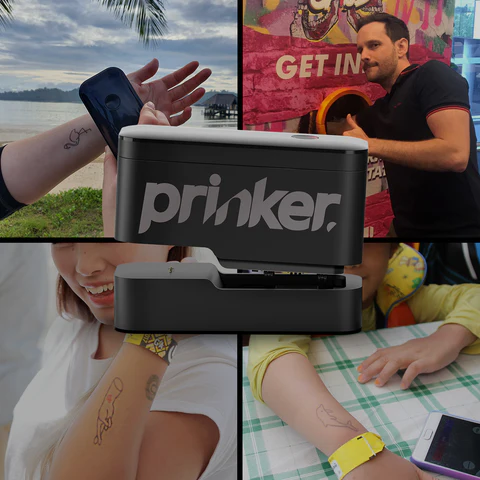 ABOUT OUR TEMPORARY FACE TATTOO MACHINES
We offer customers a portable temporary face tattoo machine that is simple to use and brings excitement to all situations. You can apply in any color, in any place and at any time. That's the power of Prinker. Enjoy the peace of mind that comes from using cosmetic grade ink, 100% safe for the face, and know that skin infections and reactions won't be an issue. Our devices are safe for kids and adults and will appeal to both equally. Rest assured that your new face tattoos won't wash away while swimming or bathing either, as they are totally waterproof. Get creative and have fun in unique ways with Prinker.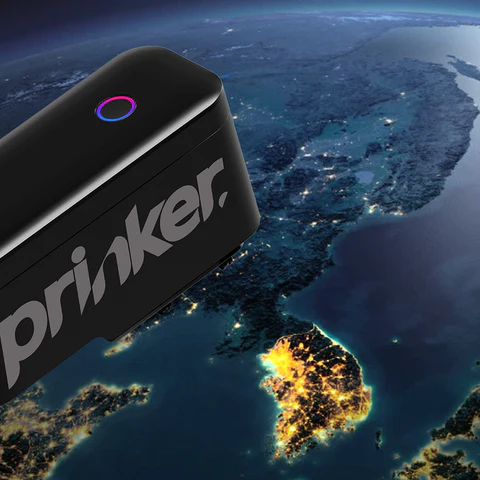 BEHIND PRINKER AND OUR AMAZING DEVICES
Prinker originated as a start-up in Korea that was determined to bring fun and creative tools for self-expression to customers. Today, we're proud to say that our range is available in over 50 countries and continues to grow in popularity all over the world. Know that we use fully certified ingredients and high grade materials to manufacture all of our products, that won't damage your skin or cause your face to break out. It's all about going above and beyond so that you can have the best experience possible.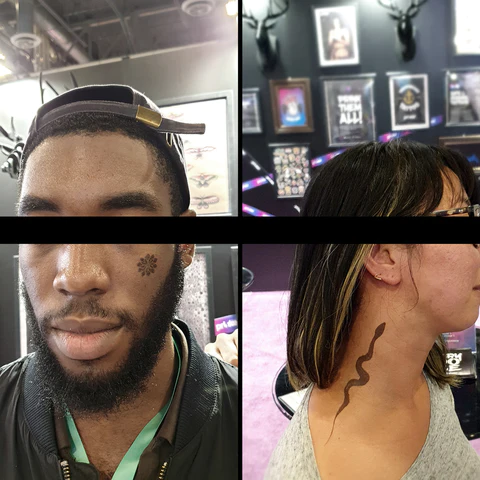 WHAT'S SO COOL ABOUT FAKE FACE TATTOOS?
Applying temp face tattoos is a fun and unique way to get noticed. It's great for parties and social events (talk about an ice breaker) plus a range of other activities. Take your love of sports to a new level by applying temp face tattoos of official emblems and logos in the most prominent places. Up the ante in face painting competitions with cool prints and add a new twist to flashy outfits and costumes. Fake face tattoos allows people to express themselves in amazing ways and your imagination truly is the only limit.

ORDER ONLINE TODAY
Order online with Prinker and start applying your fake face tattoos today. There's no limit to the type of temporary face tattoos that you can bring to life and you'll have endless fun along the way.