Calling all free-spirited hippies, with Prinker you can design and apply your favorite boho tattoos in a matter of seconds. From dream catchers to lotus flowers, bring out your inner gypsy with the temporary tattoo of your dreams.

Feel the spiritual power and pull of a bohemian tattoo that complements your unique style. Having trouble deciding on your favorite tattoo design? Then Prinker is the perfect solution for you to test drive your next tattoo.

Whether you want a different tattoo for every day of the week or just want to print a fun temporary tattoo on your arm for an event, the options are limitless and never permanent with Prinker.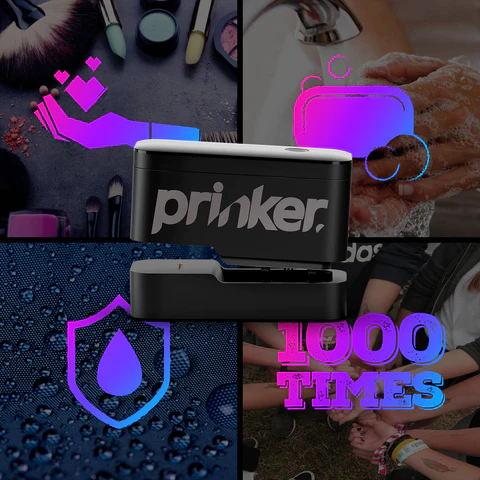 Skin safe, personalized temporary tattoos
All our temporary tattoo inks are made from certified cosmetic ingredients and are EU CPNP and FDA VCPR compliant. Lasting up to two days, you can take a dip in the ocean or do laps in the pool without them washing off. Once you're ready for a change, just rub with a little soap and warm water and watch your temp tattoo disappear.

Get creative and design your own tattoo or discover the possibilities and browse thousands of unique designs on the Prinker app. In just three seconds, you can get your custom tattoo put right on your skin.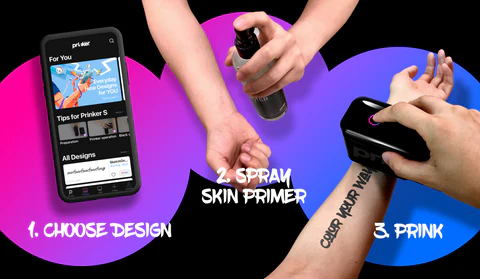 With Prinker there's just 3 easy steps
Start by synching your iOS or Android device to the Prinker App. Choose a unique design or draw up something by hand and scan it into the app. Prime you skin with Skin Primer and use bluetooth to connect your device to the Prinker machine. Run the Prinker device along the area and bring your tattoo to life, instantly!

Ready to bring the Prinker magic to your next event or adventure? Shop our range of temporary tattoo machines and show off your favorite boho designs in a snap. Order today and enjoy fast delivery to anywhere in the world!